Last Updated on May 5, 2023
In this article you'll learn how to shred pulled pork like a pro. We go over several techniques for pulling pork, from the humble fork to the maniacal electric drill!
Pulled pork is one of the staples of American barbecue. It's easy to make, relatively inexpensive, versatile, and everyone loves it.
I make pulled pork all the time. My whole family goes bananas for it and I often bring it along when we visit friends for summertime parties. Pulled pork is great for feeding a crowd.
Shredding pork is pretty simple once you get the hang of it. Like most things in life it just takes a little know-how and some practice.
Use Your Hands
I'm starting with this technique for pulling pork because it's the most obvious, but I really don't recommend it for most people.
When you take your pork butt off the smoker it's internal temperature is about 200 F. Even after letting it rest for awhile it's still pretty damn hot inside.
Personally, I don't like burning myself. If you're like me just skip to the next method, but if you do decide to try using your hands make sure you have some good food safe gloves like these.
The Double Fork Method
Other than hand pulling, the the fork method is the most basic technique. All you need is a pair of ordinary forks from your kitchen drawer.
Use one fork to hold the pork steady and the second to gently pull off a little meat at a time. Don't go crazy and start hacking away at it. Just be patient and take your time.
I like to pull off a small section of meat and then use my forks to shred it up. Then I go back for another section and do the same. Pulling the meat in sections makes it easier than trying to attack the whole piece of meat at once.
Meat Claws
Meat claws are a popular way to shred pork and they'll make quick work of that pork butt.
Plus, they let you pretend you're Wolverine!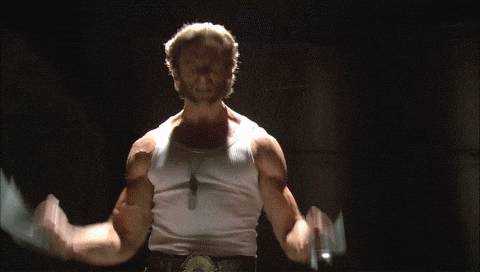 The technique is basically the same as the double fork method but the claws are bigger and shred faster. Remove a small section of the meat and use one claw to hold it steady and the other claw to shred it.
They can be a little awkward to use at first, but once you get used to them you'll love them. A few years ago my wife bought me a set of Bear Paws Meat Shredders and I love them.
Oh, and another thing I love about these meat claws: they make it easy to remove a pork butt, roast, or ham from a grill. They give you a goof grip on the food while keeping your hands safe.
Bear Paws Meat Claws – The Original Meat Shredder Claws, USA Made – Easily Lift, Shred, Pull and Serve Meats – Ultra-Sharp, Ideal Meat Claws for Shredding Pulled Pork, Chicken, Beef and Turkey – Grey
TIME SAVER - Bear Paws are the answer to perfectly shredded meat without the mess and headache of knives and forks. Easily grasp and shred pork, chicken, beef, and more with the ultra-sharp claws.

MELTPROOF and DISHWASHER SAFE - Made of BPA-free nylon and heat-resistant up to 475 degrees. Never worry about your shredding tools melting near the grill or in the dishwasher.

EASY & FUN TO USE - Lift, handle, shred, pull, and carve to your hearts content. Excellent as turkey lifters, too! Our unique design gives you a perfect handhold for safely managing the super-sharp shredding blades.

BBQ PRO FAVORITE - Featured on BBQ Pitmasters, Guy Fieris Diners, Drive-Ins, and Dives, and Americas Test Kitchen. Bear Paws have been named Best BBQ Tool by the National BBQ Association.

THE ORIGINAL BEAR PAWS - The favorite BBQ accessory for years, Bear Paws are 100% made in the USA. Nobody beats us for quality and strength. We know Bear Paws will make your BBQs 100% more epic.
Prices pulled from the Amazon Product Advertising API on:
Product prices and availability are accurate as of the date/time indicated and are subject to change. Any price and availability information displayed on [relevant Amazon Site(s), as applicable] at the time of purchase will apply to the purchase of this product.
Use A Stand Mixer
Forks and meat claws both work really well when it comes to pulling pork. But they are a little time consuming and they can be hard on the hands if you have a lot of meat to shred. They're certainly not the best for arthritis sufferers.
This is when an electric stand mixer comes in handy. Remove the bone (it should pull right out if the pork is cooked tender) and place it in a stainless steel bowl. Then use the flat beater attachment to shred the pork in record time!
The Pork Puller Drill Attachment
Most people wouldn't think they could use a power drill when preparing dinner. But they're wrong.
I don't know whose brilliant mind first looked at a cordless drill and thought, "Hey, I bet I can use that to shred pork super fast!" but I think we all owe him a big thank you.
The video below shows exactly how to shred pulled pork with an ordinary power drill. Just pop in this pork puller attachment and shred away.
Frequently Asked Questions
And now let's take a few minutes to answer some related questions…
What is pulled pork?
Pulled pork is a staple of American barbecue made with pork shoulder (often called pork butt).
The pork shoulder is dry rubbed with spices and then slowly cooked on low heat until the meat is so tender it can be shredded or pulled apart into small, thin shreds.
While pulled pork can also be made in an oven or a slow cooker, we think it's best prepared on a BBQ smoker over charcoal and a few chunks of wood that goes well with pork.
Once the pork reaches a temperature of about 195 F to 205 F it can come off the smoker and rest for 30 to 60 minutes before being pulled or shredded.
Once shredded, pulled pork can be served with barbecue sauce or other condiments. It goes great on slider roles with a side of cole slaw and cornbread.
What's the difference between pulled pork and shredded pork?
Pulled pork and shredded pork are the same thing and the names can be used interchangeably. They're both made with pork shoulder that has been slowly smoked until the meat has become tender enough to be torn, pulled, or shredded.
What can you do with leftover pulled pork?
One of the best things about pulled pork is it's versatility. You can use it in many dishes including:
BBQ pulled pork sliders
Pulled pork tacos
Pulled pork quesadillas
Pulled pork mac and cheese
BBQ pulled pork nachos
Pulled pork breakfast skillet
BBQ pulled pork pizza
If you have leftover pulled pork you can freeze it in an airtight bag or container and use it another time.