Last Updated on July 11, 2023
Start your day off right with these amazing Blackstone Breakfast Recipes. From pancakes to breakfast tacos, to homemade McGriddle sandwiches, this list has something for everyone so you can be sure the whole family will eat well.
Cooking breakfast on the Blackstone griddle is one of the best ways to start the day. And there are so many different breakfast ideas to choose from you'll never get bored.
Here are 15 Blackstone breakfast recipes you can try at home. And they're all family approved!
Blackstone Pancakes
I make pancakes on the Blackstone almost every weekend. These Blackstone pancakes are the perfect family breakfast. They're light and fluffy and super easy to make. Add some blueberries or chopped up bananas to sneak in some fruit into breakfast. Be sure to cook more than you think you'll need because everyone will love them!
Blackstone Breakfast Sandwich
A fried egg, melted cheese, and your choice of meat on a bun. You can make it with bacon, sausage, ham, or my personal favorite…pork roll! So simple yet so delicious! Who wants one??
Blackstone French Toast
French toast is one of my favorite options when I'm in the mood for breakfast on the Blackstone. There's just a few simple ingredients that we always have on hand and it comes together so quickly. Plus, French toast is super versatile. Obviously it makes a great breakfast by itself, but you can pair it with all sorts of sides and toppings.
Blackstone Cinnamon Rolls
These Blackstone Cinnamon Rolls are easy and delicious! Blackstone Smashed Cinnamon Rolls are one of the best Blackstone dessert recipes or Blackstone breakfast recipes to make for a crowd at that summer barbeque, 4th of July, Game Day or backyard party!
Homemade McGriddles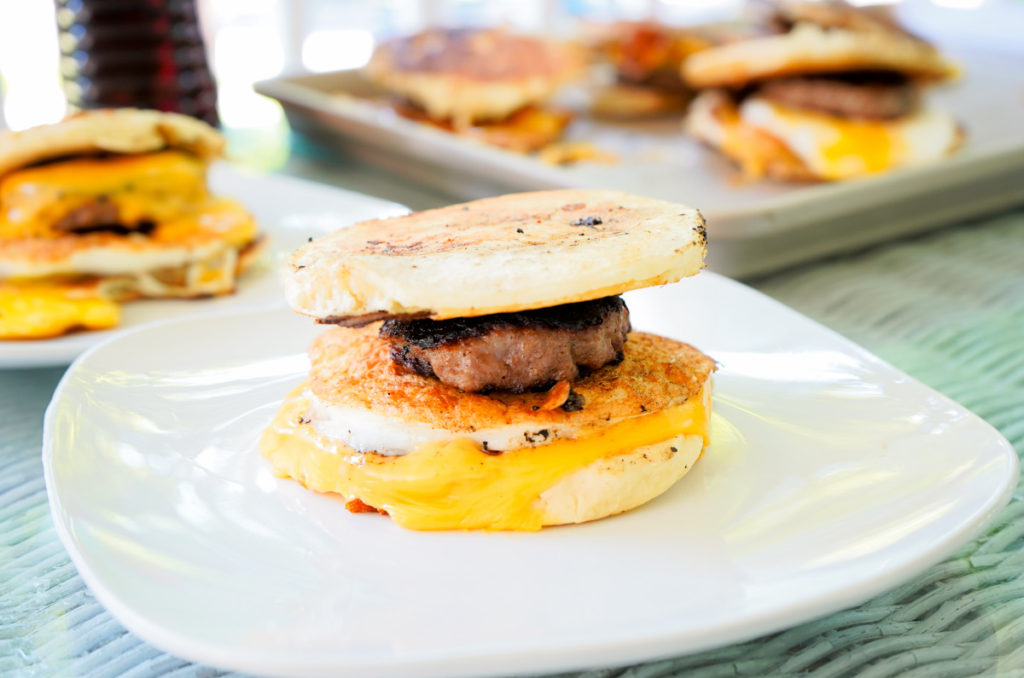 One of my guilty pleasures that I love to indulge in is the sausage, egg, and cheese McGriddle from McDonalds. These breakfast sandwiches are loaded with your favorite breakfast items right between two fluffy pancakes. If you are looking for new Blackstone breakfast ideas, these Homemade McGriddles are where its at!
Blackstone Breakfast Quesadillas
I'll put almost anything in a quesadilla. They're perfect for making a delicious meal out of whatever leftovers you have in the fridge. But breakfast favorite. Cook the eggs right on the Blackstone, then get your tortilla shell browned and stuff it with the eggs, cheese, and whatever meat and veggies you like best. Breakfast is served!
Blackstone Breakfast Quesadillas
Breakfast Crunchwraps
Start your morning off right with this savory Breakfast Crunchwrap! A flour tortilla is loaded with a layer of creamy melted cheese, fluffy eggs, hash browns and sausage making this a delicious and hearty way to get all the energy you need to start your day!
Blackstone Breakfast Smash Burgers
Everyone loves smash burgers for dinner, but have you ever tried making a breakfast smash burger on your Blackstone? You'll use ground sausage instead of ground beef, but you'll smash them just the same. Top each patty with a fried egg and a slice of melted cheese and place on a roll or English muffin for breakfast perfection. If you're really feeling bold add some bacon or pork roll and your breakfast sandwich will be a festival of meat!
Blackstone Breakfast Smash Burgers
Breakfast Tacos
Bacon on the Blackstone
Is there anything more delicious than some freshly cooked bacon? Seriously, bacon is one of the most popular foods to cook on a griddle and once you master it you'll find yourself cooking bacon on your Blackstone all the time.
Breakfast Stuffed Avocados
Breakfast Stuffed Avocados are a low-carb, healthy, and delicious breakfast option that starts the day off right! Egg, crumbled bacon, and shredded cheese combined in a creamy avocado…what more can you ask for?! Grilled in a cast iron pan is certainly delicious, but why not try making them right on the Blackstone!
Homemade English Muffins
Freshly baked homemade English muffins with a crispy crust and a soft buttery center for a special breakfast. You will be surprised how easy it is to make them, just mix the dough in a bread machine or with a mixer and finish them off on the Blackstone. Top them with butter and jam or bacon and egg, and you will never buy them already made again.
Sweet Apple Potato Hash
The combination of apple chicken sausage, potato, and diced apple come together for a flavorful and easy-to-make hash. Put a fried egg on it and have this potato apple hash for breakfast, lunch, or dinner! This is a great budget-friendly recipe the whole family will love!
Blackstone Omelet
When I take the family out for breakfast, I almost always get an omelet. There's just something about the rich eggs and creamy cheese along with your favorite toppings (mine are ham and diced tomatoes) that make it the perfect breakfast. I also make omelets at home all the time and it's definitely one of my favorite Blackstone breakfast recipes.
Blackstone Omelet
Blackstone Scrambled Eggs
Blackstone Scrambled Eggs
Which of these Blackstone breakfast recipes is your favorite?